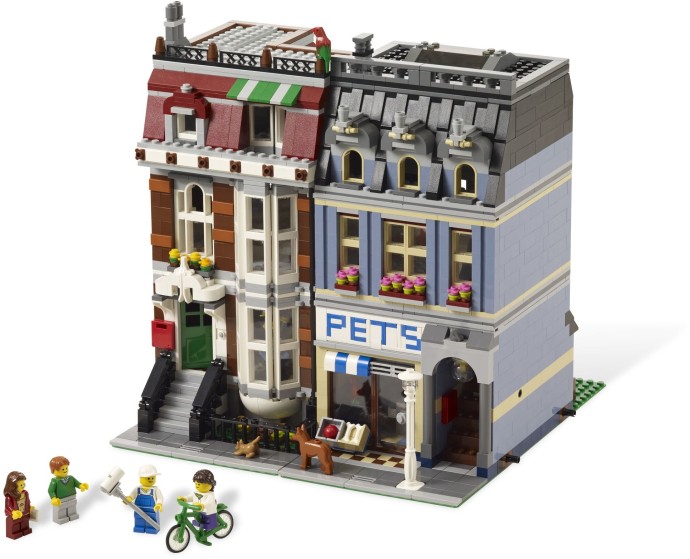 Written in late 2019 during back-log review of Lego interest
My first "real" Lego set after the dark age was the modular Pet Shop. Although this was before I started doing lots of documentary pictures of builds, this was a fantastic experience for the whole family. Essentially two separate buildings with 3 floors each, this allowed each of my daughters to share a section of the building. Even our 5yo can proudly point to a section and say she built it.
Of course, since I bought it used, it did unfortunately come minus a few missing pieces. Fortunately there's Bricklink – an amazing place to find loose parts and old sets, but little did I know the rabbit hole I was about to get sucked down into…!
At this point I wasn't quite sure where things were going with my Lego collection (writing 3 months into my obsession doesn't help with memory). Very likely I'm not about to collect every one of these in the series (oh, to only have gotten into this a decade ago!), but I thought perhaps after getting a few "big" sets into my hands, I'd have a good collection of pieces from which to build other "MOCs" out there. I had just started exploring Rebrickable with its thousands of user-created models, but building this set got me realizing how many different Lego parts (and colors!) there are. Especially with my color-blindness, I was going to need some sort of solution if I ever wanted to mix sets and reconstitute them later.
Around this same time, I started sorting and cataloging my old loose parts. I figured I had few enough that I'd just sort by shape (part) and worry about color later. I got a great little sorter with multiple drawers and compartments and started piecing out all the little details from. Even though bigger plates and bricks went elsewhere, I quickly ran out of room here. Am I going to have to get a ton of Sterlite drawers? Time will tell…